The Best Tires for Cars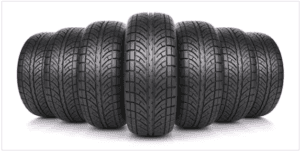 Tires are a very important fixture for all used cars, without them you cannot drive. There are many factors that you must consider like for example; the weather that you drive in, the performance of the car that you drive, and the size of the tires that your car requires. There are also many different brands of tires available, and each one has qualities that can fit your vehicle's need. We are going to give you a guide on which ones we recommend that fit those needs.
Best All-Season Tires:
The General Tire is an American tire company founded in 1915 by William O'Neil. It is a value brand of tire that has average tread-life warranties and sometimes limited performance options. These tires are best used on passenger cars that drive in all seasons. Their costs are fair, and they get a 4.5 out of 5 stars on consumer review reports.
Best Snow Tires:
The Hankook Tire company is based out of Korea and was founded in 1941.  These are affordable brands and are known to have great tread-life warranties. Since they are the best snow tires, they are best used on vehicles that drive in snowy conditions. Their costs are average; however, they only get a 3 out of 5 stars on consumer review reports.
Best High-Performance Summer Tires:
Michelin is French manufacturer which is based in France. It was founded in 1889 by two brothers who ran a rubber factory. Michelin is the second largest manufacturer of tires in the world and is the most expensive tire brand in the market. Since these tires are most used on performance and sporty cars, they provide solid handling and durability. Their costs are higher on average; however, they get a 3 out of 5 stars on consumer review reports.
Best Tires for SUVs:
The Kumho tire brand was founded in 1977 out of Korea by an industrial conglomerate. They are average priced and are great for SUVs due to their durable capabilities, stopping power and comfortability. They received a 4 out of 5 stars on consumer review reports.
If you visit our showroom today, you will find that we have many types of vehicles that are equipped with these types of tires listed above. If you come in, you may just find that your new vehicle is fitted with the tires that are best suited for it, without having to get new ones. See our tire specials here.