Why ALM Gwinnett is a Top-Rated Used Car Dealership to Buy Vehicles From?
There are many used car dealerships in Atlanta, but there is no doubt that Atlanta Luxury Motors (ALM Gwinnett) is among the best to buy a car from. A company that has been operating since 2004, ALM Gwinnett is a top provider of used vehicles. Their goal is to help consumers and drivers find the car they want at prices they can afford.
But there are more reasons why ALM Gwinnett is the best used car dealership.
Prices are lowered and discounted
It will be almost impossible to find a car dealership that can offer the prices being given by ALM Gwinnett. The company also has a team of auto financing experts to help you find financing terms and options so you can afford the car of your dreams. They have also developed a care package which can help you save money, receive a gift card as well as delay your payments.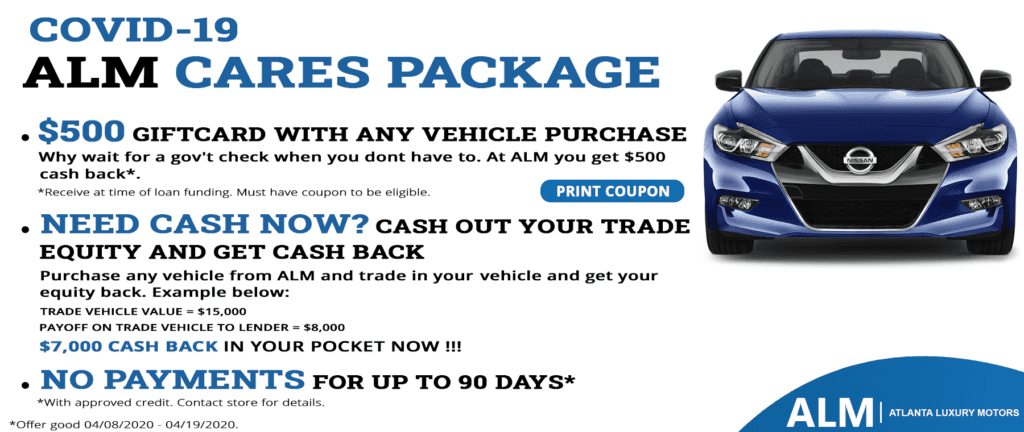 Huge inventory of cars
One of the reasons why ALM Gwinnett is the best used car dealership in Atlanta is its unbelievable inventory of cars. Their inventory includes car brands such as Audi, BMW, Jaguar, Porsche, Mercedes-Benz, Lexus, Volvo, Toyota, Honda, and Nissan, among many others.
There is no need to visit to the dealership as they have shipping options
Cannot come to the dealership? No problem! ALM Gwinnett can have your car delivered right to your doorstep hassle-free, 4 to 10 business days after purchase! The process is simple as it only requires 7 steps and we will deliver your car fully sanitized to your doorstep. Once arrived you can sign your paperwork and take receipt of your new car.
They have many service deals that you can take advantage of
Lastly, ALM Gwinnett is the best used car dealership because its service does not end after your car purchase! They have extensive service deals you can take advantage of when needed at a reasonable cost. Everything is within reach and convenient when you purchase a used car from their dealership.